Directions
1. Bring a pot of water to a boil, add ramen noodles, boil for 1 minute and drain with cold water.
2. Mix noodle with 1 egg. Divide noodles into 4 6-inch ramekins. Place a sheet of plastic wrap directly over noodles and stack another ramekin or weight on top to flatten noodles. Refrigerate until firm, about 20 minutes.
3. Mix beef, soy sauce, and sesame oil in a bowl. Shape into patties.
4. Heat about 1 tablespoon vegetable oil in a large skillet over medium-high heat. 5. Invert ramen bowl, gently tapping the bottom of the bowl until ramen loosens, careful to maintain bun shape.
6. Cook until golden brown, about 3 minutes. Flip each bun and continue frying until crisp. Transfer buns to large plate with the crispy side up.
7. Heat about 1 tablespoon vegetable oil in the same skillet. Cook beef patties until burgers are lightly pink in the center, 3 to 5 minute per side.
8. Mix ketchup and Gochujang sauce in a small bowl (mayo gochujang), spread mixture over the crispy side of each ramen bun. Place vegetables & a slice of cheese over ramen bun.
9. Top with remaining bun and then serve.
---
Noodle
1 pack of twin marquis ramen
Sauce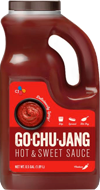 CJ Gochujang Hot & Sweet Sauce
1 tablespoon gochujang sauce, 1 table spoon soy sauce, 1 teaspoon sesame oil, 1 tablespoon ketchup
Ingredients
– salt and ground black pepper to taste
– 7 oz of lean ground beef
– 1 slice of American cheese
– 1 cup lettuce
– 2 slice of tomato
– 1 egg
Need Custom Noodles? Private Labels? Ask us.