Directions
1. Boil water and add green beans for 1 minute. Remove and rinse with cold water.
3. Slice green beans in half, slice carrot, onion, and cabbage.
4. Heat wok and coat with cooking oil. Add shrimp, stir until almost fully cooked, remove from pan and set aside.
5. Add more oil, onion, carrot, cabbage, baby corn, green beans and stir.
6. Add red curry paste and mix well.
7. Add back shrimp. Pour chicken stock and coconut milk.
8. Cook the noodle in boiling water for 5 mins, drain and rinse in cold water.
9. Mix in noodles.
9. Season with salt and pepper and let it simmer for 2 mins.
10. Transfer to plate, garnish with cilantro and serve.
---
Noodle
1 bag Twin Marquis Japanese style Udon
Sauce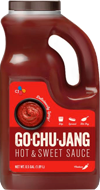 Gochujang Sauce
1⁄2 cup CJ Gochujang Hot & Sweet Sauce, 1 cup heavy cream, 4 each Lemon, Juice and Zest
Ingredients
– 1 lb Twin Marquis Plain Noodle (1 package)
– ½ cup green beans
– ½ cup carrot
– ⅓ cup cabbage
– 1 small onion
– ⅓ cup baby corn
– ½ cup coconut milk
– ½ cup chicken stock
– ½ lb Shrimp, peeled and deveined
– Fresh Cilantro to garnish
Need Custom Noodles? Private Labels? Ask us.