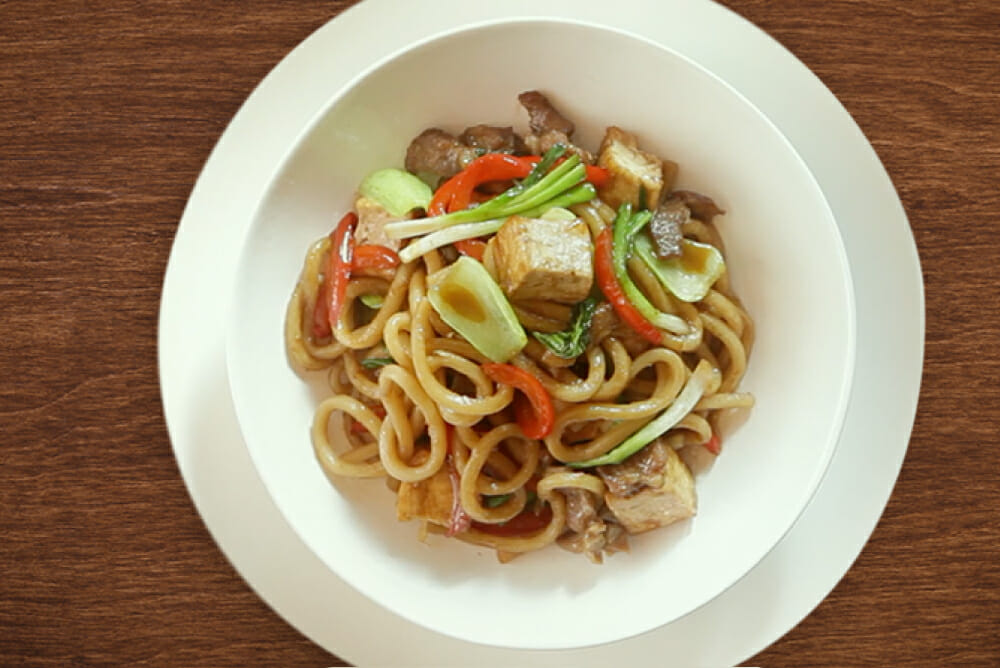 Pork & Tofu Noodle Stir Fry
---
COOKING METHOD

Stir Fry
---
INGREDIENTS
Sauce
2 table spoons Oyster Sauce, 2 tablespoons dry white wine (or cooking wine)

Ingredients
– 8 oz. pork loin, sliced julienne
– ¼ cup pre-fried tofu, medium cubes
– ¼ cup bok choy
– ¼ red bell pepper, sliced julienne
– 2 scallions, chopped in 2" pieces
– 1 tsp cooking oil

Pork Marinade:
– 1 tsp soy sauce
– ½ tsp salt
– 1 tsp sesame oil
– ¼ tsp sugar
– Pinch of white pepper
– ½ cup Katsuobushi (Japanese Bonito Flakes)
---
DIRECTIONS
1. Mix pork marinade and add pork slices. Let sit for 10 minutes.
2. Cook the noodles in boiling water for 1~2 mins, then drain.
3. Heat skillet with cooking oil, add pork.
4. Cook pork until it turns golden brown.
5. Add fried tofu, cooked noodles, oyster sauce, white wine then stir well.
6. Add red pepper, scallion, bok choy. Lightly toss with noodles and sauce.
7. Transfer to plate and garnish with Katsuobushi.
---
Need Custom Noodles? Private Labels? Ask us.