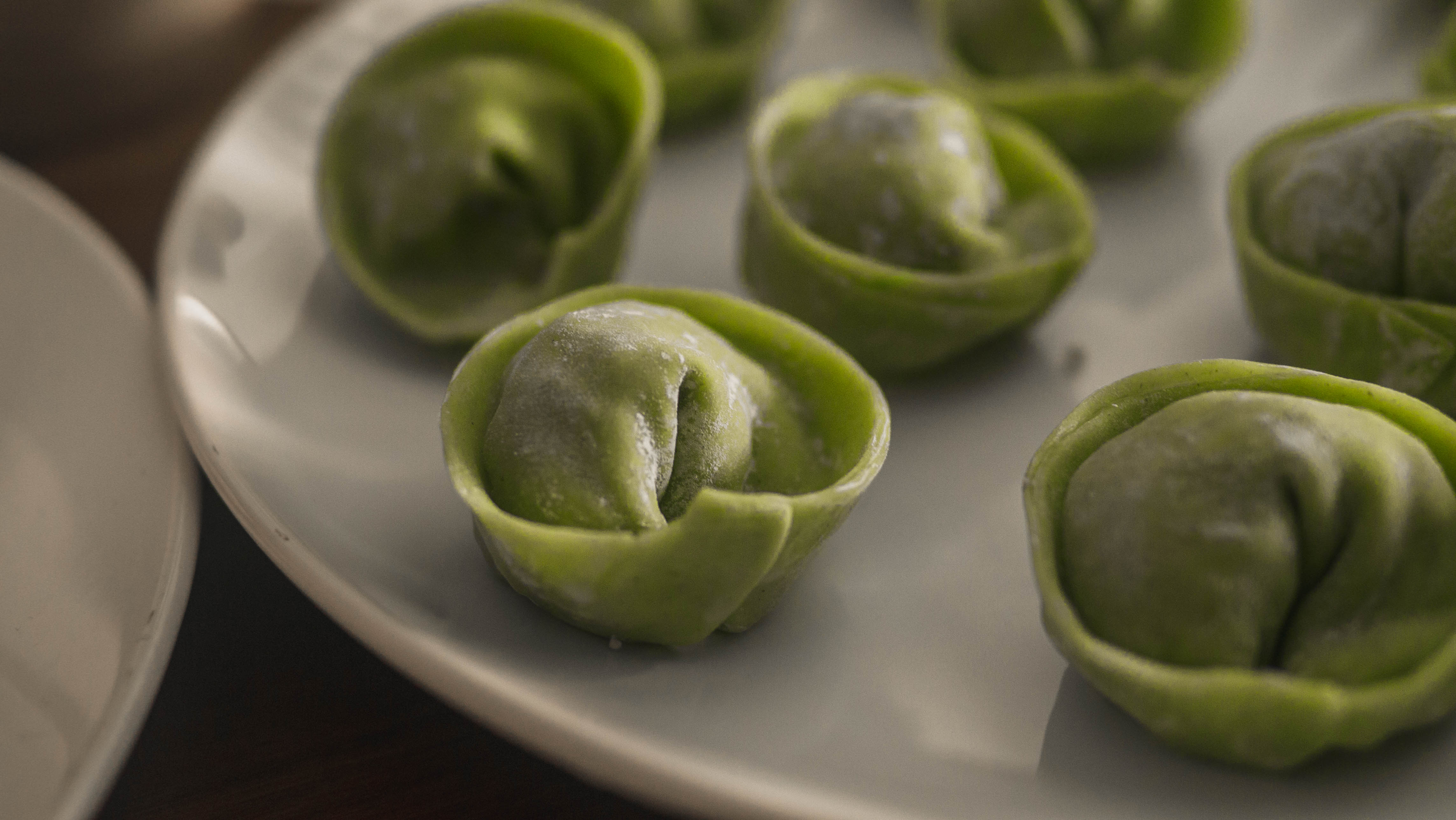 Vegan Dumplings
---
COOKING METHOD

Steam
---
INGREDIENTS
– 2 cups Japchae noodles, cooked and chopped
– 1 Package Extra-Firm tofu, small dice
– 1 cup green cabbage, small dice
– 2 cups dried shiitake mushrooms, reconstituted
– 2 cups fresh baby spinach, chopped
– 1 cup garlic chives, chopped
– 2 Tbsp. Garlic
– 2 Tbsp. Light Soy Sauce
– 1 Tbsp. Corn Starch
– 1 tsp. salt
– 1 package of Twin Marquis® Spinach Dumpling Wrappers

SPECIAL EQUIPMENT:
– Cheese Cloth or fine mesh sieve
– Steamer
---
DIRECTIONS
1. Add 1 tsp. of salt to the green cabbage, toss and let is sit for 10 minutes.
2. Place cooked and chopped Japchae noodles in a large bowl.
3. Place tofu in cheese cloth and squeeze out all the liquid. Add to Japchae.
4. Place cabbage in cheese cloth and squeeze out the liquid. Add to Japchae mix.
5. Squeeze out excess liquid in mushrooms and chop into small dice. Add to mix.
6. Prepare an ice water bath in a medium sized bowl.
7. Boil a medium pot of water, add 2 tsp. of salt. Once water is boiling, add the baby spinach for 30 seconds and then shock in iced water bath. Squeeze out liquid from spinach and finely chop. Add to mix.
8. Add chopped garlic chive, garlic, light soy sauce, and cornstarch to bowl. Mix together and let it sit in fridge for about 15-20 minutes to set.
9. Place a rounded teaspoon of filling in the center of the dumping wrapper.
10. Apply water to edge of the dumpling skin with the tip of your finger. Fold over the wrapper and seal. Make sure to use your fingers to push out excess air and keep it tight.
11. Very gently bring both edges of the dumpling together. Wet one edge with water and pinch to seal. The shape should look vaguely like a hat.
12. Place dumplings on a lightly oiled steamer rack or parchment paper on rack over rolling boiling water. Cover and cook for 15-20 minutes on medium low heat.
13. Platter and serve with your choice of dipping sauce.

Makes 25

FUN FACTS:
– Japchae translates to mixed vegetables in Korean. However, Japchae noodles refers to Korean glass noodles made of sweet potatoes and often served with vegetables.
– How to reconstitute Dried Shiitake Mushrooms: Add 4 cups of very hot water to dry mushrooms and soak until tender. About 25 minutes.
---
Need Custom Noodles? Private Labels? Ask us.