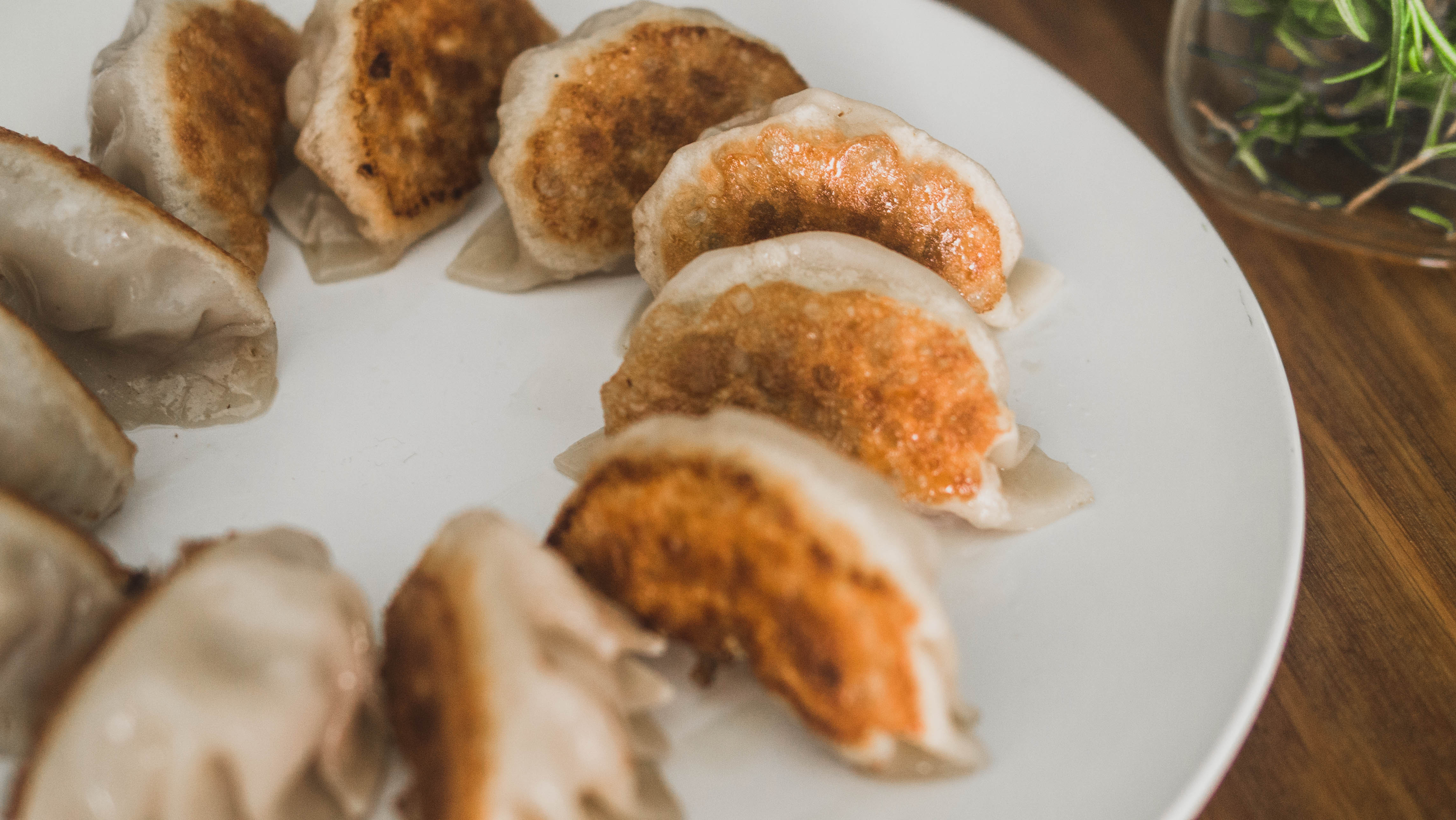 Halmeoni Dumplings
---
COOKING METHOD

Stir Fry
---
INGREDIENTS
– 1 Med. Zucchini, small dice
– 1/2 onion, small dice
– 2 lbs. ground pork
– 1 pack tofu, extra firm, small dice
– 1 Tbsp. Gochugaru
– 1 cup Kimchi, chopped
– 1/2 Tbsp. salt
– 2 Tbsp. garlic, minced
– 2 Tbsp. sesame oil
– 2 Tbsp. fish sauce
– 2 Tbsp. soy sauce
– 2 Tbsp. cornstarch
– 2 Tbsp. vegetable oil for pan-frying
– 1 package Twin Marquis®Shanghai dumpling wrapper

Special Equipment:
– Cheese Cloth
– Large Skillet with Cover
---
DIRECTIONS
1. In a medium bowl, add 1/2 Tbsp. of salt to zucchini and let it sit for 10 minutes.
2. Put zucchini mixture in cheese cloth. Squeeze to ring out all the liquid.
3. Repeat with tofu, add to cheese cloth and squeeze to ring out all the moisture.
4. Mix all zucchini, onion, pork, tofu, Gochugaru, Kimchi, garlic, sesame oil, fish sauce, soy sauce, and cornstarch in a large bowl. Refrigerate for 15-20 minutes to firm up.
5. Filling is now ready to form dumplings. Prepare your dumpling-making station by keeping a clean damp cloth over your wrappers so they won't dry out while you're working and a sheet pan to place filled dumplings.
6. Take a small amount of filling, about 1 tsp., and place it in the center of a wrapper. Dab water all the way around the outside edge of the wrapper with the tip of your finger.
7. Lightly pinch the two sides o the wrapper together with your fingers. It will look like a half moon shape.
8. Hold a thumb and index finger against the seam and use your other hand to pleat the edge of ONE SIDE of the dumpling, from one end to the other. (WATCH ESTHER PLEAT DUMPLINGS IN EPISODE ONE OF YUM CHAT!)
9. Continue the pleating process until you close up the dumpling. If the pleats do not stick, use a little bit of water.
10. Heat the vegetable oil in a large skillet on medium heat. Add dumplings in a single layer and cook them until they begin to brown on the bottom. About 30 seconds.
11. Add 1/4 cup of water, cover and cook 3 minutes. Uncover and cook until the water evaporates and bottoms are crispy and golden brown. About 2 additional minutes.
12. Platter and serve with your choice of dipping sauce.

MAKES 25

FUN FACTS:
– Halmeoni means Grandmother in Korean
– Gochugaru is a vibrant, red spice made from a blend of red pepper flakes and frequently used in Korean cooking.
– Kimchi is a traditional dish in Korean cooking made by fermenting vegetables, typically napa cabbage and Korean radishes in seasoning.
---
Need Custom Noodles? Private Labels? Ask us.