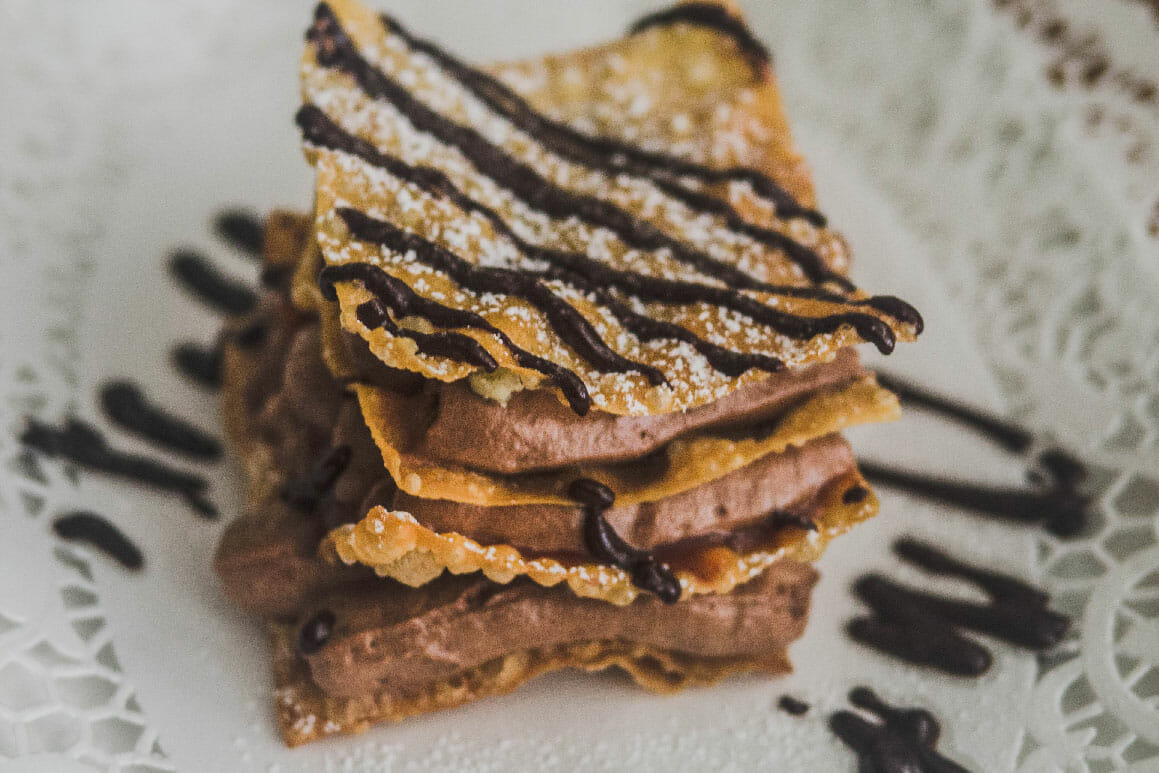 Chocolate Mousse Blue Cheese Mille Feuille
---
COOKING METHOD

Air Fryer
---
INGREDIENTS
● 1/2 cup Quince Paste or Raspberry Jam
● 1.5 cups Heavy Cream
● 3 Egg Yolks
● 3 Tbsp Honey
● 7 oz 72% Cacao Chocolate (FOR MOUSSE)
● 8 oz 72% Cacao chocolate chips (FOR GANACHE)
● 1/2 cup heavy whipping cream
● 1/4 tsp Vanilla extract
● 1/2 tbsp Orange Liquor, such as Curacao or Triple Sec (optional)
● 1 package Twin Marquis Extra Thin Wonton Wraps
● 2 oz crumbled Mycella Blue Cheese
● Canola or Peanut Oil, for frying
● Powdered Sugar for dusting
---
DIRECTIONS
1. Make the quince jam:
Combine quince paste and 1/4 cup water in a small sauce pot. Heat over medium-low heat, melt the quince paste whisking as the mixture heats up. Set aside.
2. Make chocolate mousse:
Make a double boiler: begin to boil water in a pot large enough to place aluminum bowl on top.
3. Meanwhile, place 1.5 cup heavy cream in standing mixer bow. Whip heavy cream to soft peaks. This is when the mixture peaks fall when pick up by the whisk. Set aside.
4. Place egg yolks in a kitchen aide mixing bowl. Using the whisk attachment whip egg yolks to ribbon stage. (The mixture will turn to a light yellow color and batter should fall like a ribbon when lifted with the whisk.) Meanwhile, heat honey in the microwave for 30 seconds or until hot. Slowly drizzle the honey into the egg yolk mixture while whisking. Whip until cooled.
5. Place chocolate in a aluminum bowl. Place the bowl on top of the pot with the boiling water. Stir chocolate with a rubber spatula until it just melts.
6. Pour chocolate into egg mixture. Whisk until incorporated and cooled. Fold in about 1/2 cup of the whipped cream into the chocolate using a rubber spatula and scraping from the side to the bottom to the opposite side of the bowl. Once mostly incorporated add half of the whipped cream and fold in, then add the remaining half of the whipped cream and fold in until just incorporated. Store in refrigerator until you are ready to use.
7. Make chocolate ganache:
Chop chocolate into tiny pieces and place in a bowl. In a small sauce pot heat the heavy whipping cream iuntil hot. Do not simmer or boil. Pour the hot cream over the chocolate. Whisk until chocolate has melted. Whisk in orange liquor and vanilla extract. Pour chocolate mixture into a squeeze bottle. Set aside.
8. Fry wonton skins:
Heat 1/2″ deep oil in a frying pan to about 325-350 degrees Carefully, place a few wonton skins in the pan laying them flat. Use a slotted spatula to keep the wonton skins flat and submerged in the oil, flip over if needed. Pan fry until the skins become crispy, about 1 minute. Drain excess oil on paper towels. Repeat, until you have 20 pieces. Set aside.
9. Assemble:
Put mousse into a piping bag or ziplock bag.
Layer ingredients to create a tower with 5 wonton wraps. Start by squeezing 1/2 tsp of the chocolate onto a serving plate. Place a fried wonton skin on top so it doesn't slide around on the plate. Squeeze about a thin layer of mousse on top of the wonton skin, sprinkle 1/4 oz of blue cheese, wonton, spread about heaping 1 tbsp of the quince jam, thin layer mousse, wonton, mousse, 1/4 oz blue cheese, wonton wrap, mousse, wonton wrap. Finally, drizzle chocolate ganache on top. Dust with powered sugar, using a fine mesh sieve. Enjoy immediately.
Fun Facts:
QUINCE PASTE is a sweet, thick jelly made of the pulp of quince fruit
DOUBLE BOILER refers to a cooking utensil consisting of two saucepans fitting together so the contents of the upper can be cooked or heated by boiling water in the lower, the process can be replicated using a pot of water with a bowl fitted on top – as long as the bowl's bottom does not touch the boiling water.
Recipe Hack:
Use instant/store bought mouse or dark chocolate pudding in place of the chocolate mousse!
---
Need Custom Noodles? Private Labels? Ask us.