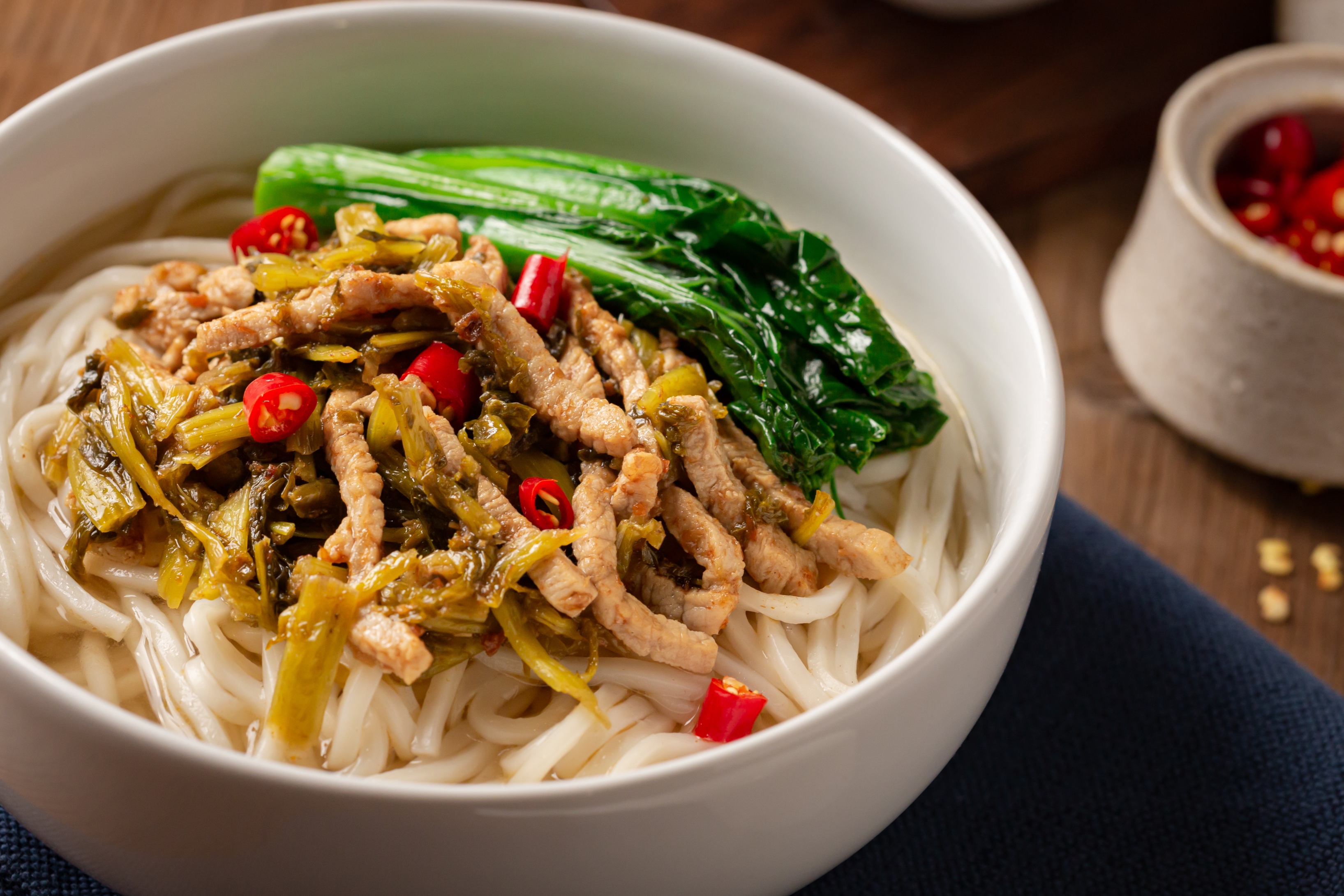 Preserved Vegetables with Shanghai Noodle
---
COOKING METHOD

Soup
---
INGREDIENTS
1/2 lb Lean pork, shredded
3 tbsp cooking wine
3 tsp of starch

4 oz Preserved vegetables
1/2 lb Leafy greens (or your preference)
4 cloves garlic, sliced
2 ea Bird Eye Chili, sliced (optional)
2 tbsp Cooking oil
3 tbsp Light soy sauce
To Taste Salt
To Taste Sesame oil
---
DIRECTIONS
1. Marinate the lean pork with cooking wine and starch for 10 minutes
2. Heat wok/pan with oil. Sauté garlic and bird-eye chili until aromatic.
3. Add preserved vegetables and stir-fry for 1 minute.
4. Add pork and continue to stir-fry for another minute.
5. Add 16oz of water and continue to cook for 3 minutes or until boiled. Seasoned with soy sauce, salt and sesame oil.
6. In a separate pot, blanch the TM Shanghai Style Plain Noodle in boiling water for 30 seconds to 1 minute. Drain the noodle and set aside.
7. Blanch the leafy greens using the same water to blanch the noodle.
Assemble
1. Placed noodle in the bowl.
2. Add soup with pork and preserved vegetable.
3. Add leafy greens
4. Garnish with bird-eye chili (optional)
---
Need Custom Noodles? Private Labels? Ask us.