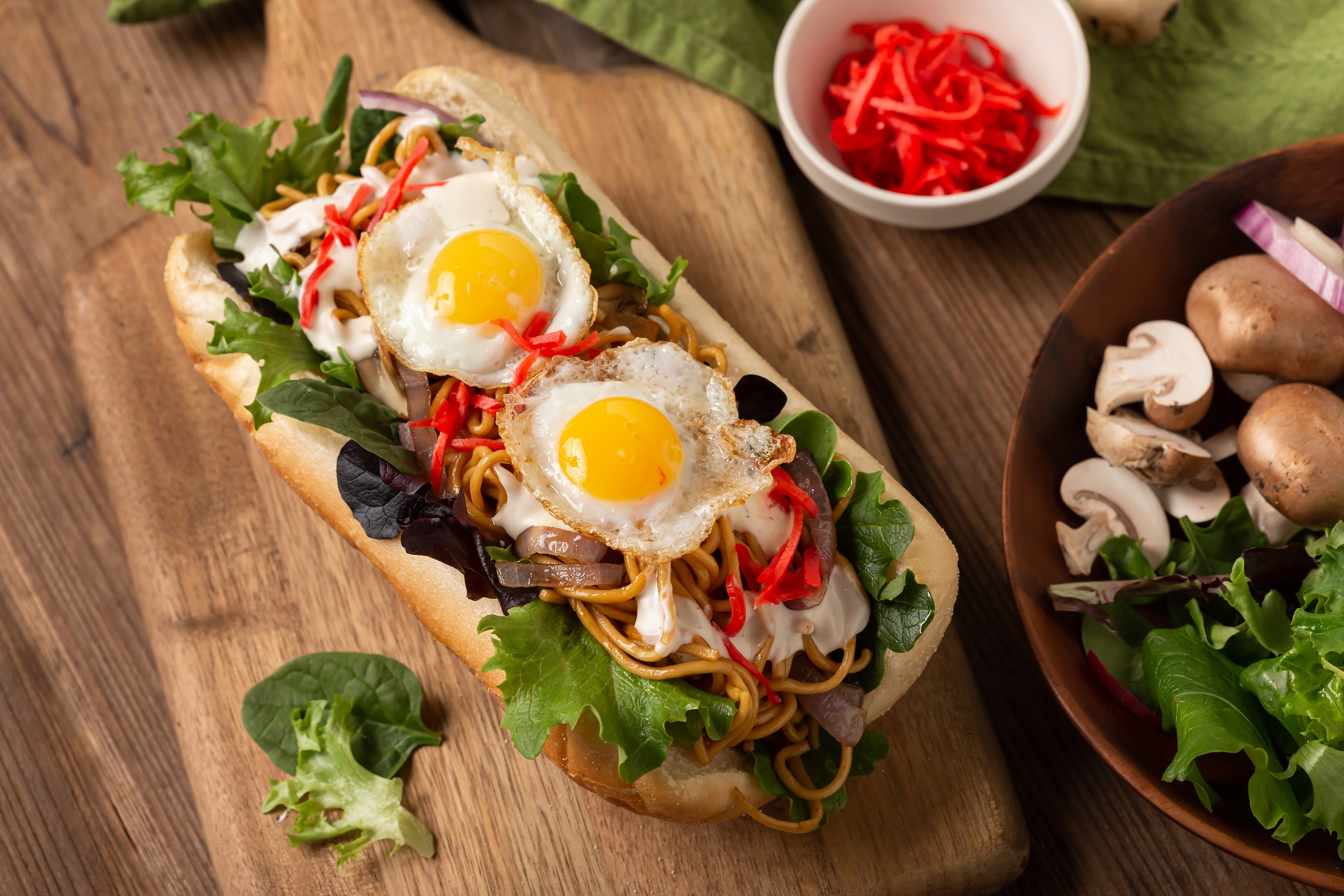 Yakisoba & Hotdog buns
---
COOKING METHOD

Stir Fry
---
INGREDIENTS
YAKISOBA SAUCE
1 tbsp Oyster sauce
1 tbsp Soy sauce
1/2 tbsp Worcestershire sauce
1 tsp Ketchup
1/2 tbsp Sake (or white wine)
½ tsp Sugar
1 pinch Black pepper
1 tsp Sesame oil

YAKISOBA PAN
1 tbsp Oil (vegetable or sunflower)
200 g (3.57 oz) Fresh Chinese style wheat noodles (if using dry noodles 100 g/24 oz – boil them first)
120 g (2 oz) Pork Belly thinly sliced (see note)
1 pinch Salt and pepper
¼ White onion sliced
2-3 Hot dog buns
Butter

2 Sunny side eggs (optional)
Pickled ginger (optional)
Aonori (optional)
Mayonnaise (optional)
---
DIRECTIONS
Yakisoba recipe:
1. In a bowl, combine sauce and set aside.
2. Prepare noodles, and cut up protein and vegetables of your choice.
3. Stir fry noodles in a frying pan and set aside.
4. Stir fry protein and vegetables in the frying pan.
5. Place the stir-fried noodles back into the frying pan and toss together with other stir-fried ingredients.
6. Pour yakisoba sauce into the frying pan and combine them all together over high heat.

Assembly:
1. Bake Hot Dog Buns
2. Score the hot dog buns in the center.
3. Spread margarine inside the scored hot dog buns.
4. Stuff a hot dog bun with 1/4 of the Yakisoba.

Garnish with sunny side eggs, aonori and benishoga on top of the noodle
---
Need Custom Noodles? Private Labels? Ask us.