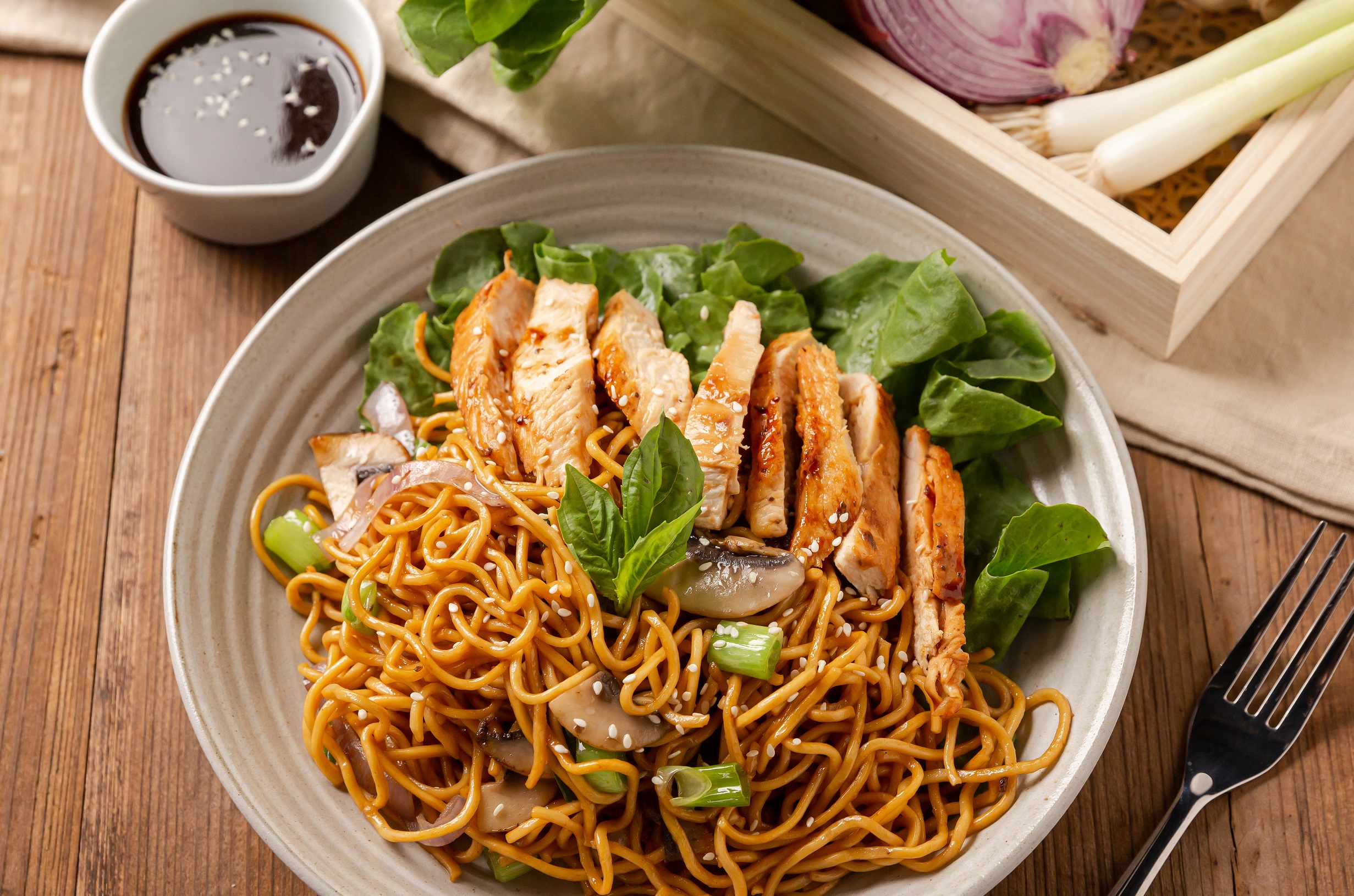 Chicken Yakisoba Salad
---
COOKING METHOD

Stir Fry
---
INGREDIENTS
2 tablespoons vegetable oil divided use
3/4 pound boneless skinless chicken breasts thinly sliced
salt and pepper to taste
2 teaspoons garlic minced
1 teaspoon ginger minced
1 pack 16oz yakisoba noodles prepared according to package directions
2 cups salad mix
Garnish

scallion, sliced
Sesame Seeds
For the Sauce

1/4 cup soy sauce
1/4 cup worcestershire sauce
3 tablespoons ketchup
1 teaspoon granulated sugar
1 teaspoon sesame oil
---
DIRECTIONS
For the sauce
Place all the ingredients in a bowl and whisk until well combined.

For the Stir Fry
Heat 1 tablespoon of oil in a pan over medium high heat. Add the chicken in a single layer and season with salt and pepper to taste.
Cook the chicken for 4-5 minutes per side, or until lightly browned on both sides and cooked through. Remove the chicken from the pan, Slice it and place on a plate.
Add the remaining tablespoon of oil to the pan.
Add the garlic and ginger and cook for 30 seconds.
Add the yakisoba noodles, and pour the sauce into the pan and toss everything together. Stir to combine.

Assembly
Place salad mix on the plate.
Add yakisoba noodle on top.
Top it off with sliced chicken.
Garnish with scallion and sesame seeds, then serve immediately.
---
Need Custom Noodles? Private Labels? Ask us.