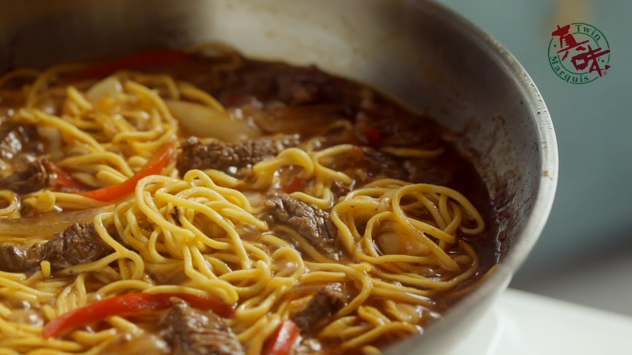 BBQ Beef Yakisoba
---
COOKING METHOD

Stir Fry
---
INGREDIENTS
1 pack Twin Marquis® Yakisoba Noodles
10 oz Beef, slice strip
8 oz Cabbage,
1 ea Onion, slice
1 ea Red Pepper, slice
1 stalk Scallion, 2in julienne
To Taste White Pepper
To Taste Salt
4 Tbsp Worcestershire Sauce
8 Tbsp BBQ Sauce
3 Tbsp + Water
3 Tbsp + cooking oil
---
DIRECTIONS
1. Heat the pan and coat with oil then add beef and season with salt and pepper. Stir-fry beef until the color turns golden brown and set aside.
2. Heat the same pan and coat with oil, put in onion, cabbage and bell pepper and stir
3. In a separate pot blanch noodles in water for 1 minute, and drain.
4. Add cooked meat to vegetables in the pan, and stir
5. Add BBQ and Worcestershire sauce, and cooked noodles; combine well.
6. Season with salt and pepper as desired.
---
Need Custom Noodles? Private Labels? Ask us.