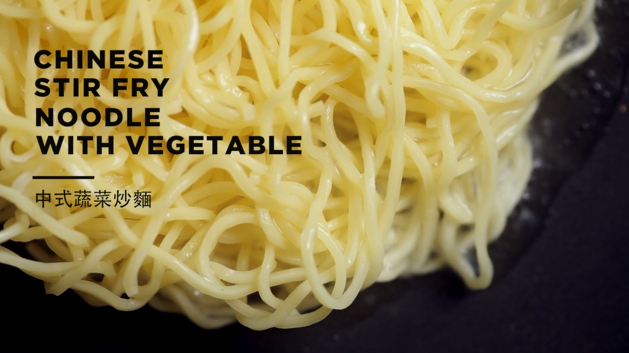 Chinese Stir Fry Noodle With Vegetable
---
COOKING METHOD

Stir Fry
---
INGREDIENTS
1 pack Twin Marquis® Pan Fried Noodles
4 cups cabbage, chopped
½  cup onion, chopped
⅔  cup wood ear mushroom, tear into one bite size
3 shiitake mushroom, sliced
2 king oyster mushroom, sliced
1 cup carrot, chopped
1 cup chicken stock
3 scallions, chopped in 2" pieces
Sauce
2 tsp Chopped ginger, 
2 tsp vinegar, 
2 tsp sesame oil, 
2 tsp soy sauce, 
To Taste white pepper, 
To Taste Salt 
2 tbsp corn starch
4 tbsp water
---
DIRECTIONS
1. Cook the noodles in boiling water for 3 mins, then drain.
2. Heat skillet and coat with cooking oil. Spread noodles on the pan and fry until the color turns golden brown. Remove and set on a plate.
3. Reheat skillet and coat with cooking oil. Add onion, cabbage, wood ear mushroom, king oyster mushroom, shiitake mushroom, carrots and mix well. Cook until tender.
4. Add chopped ginger, vinegar, soy sauce, sesame oil, white pepper and chicken stock.
5. Bring to boil, add scallion and chive, salt to taste.
6. Mix water and cornstarch, removing all lumps, and add to skillet, mixing evenly. Let boil for 1 minute.
7. Pour the vegetables and sauce over noodles and serve.
---
Need Custom Noodles? Private Labels? Ask us.