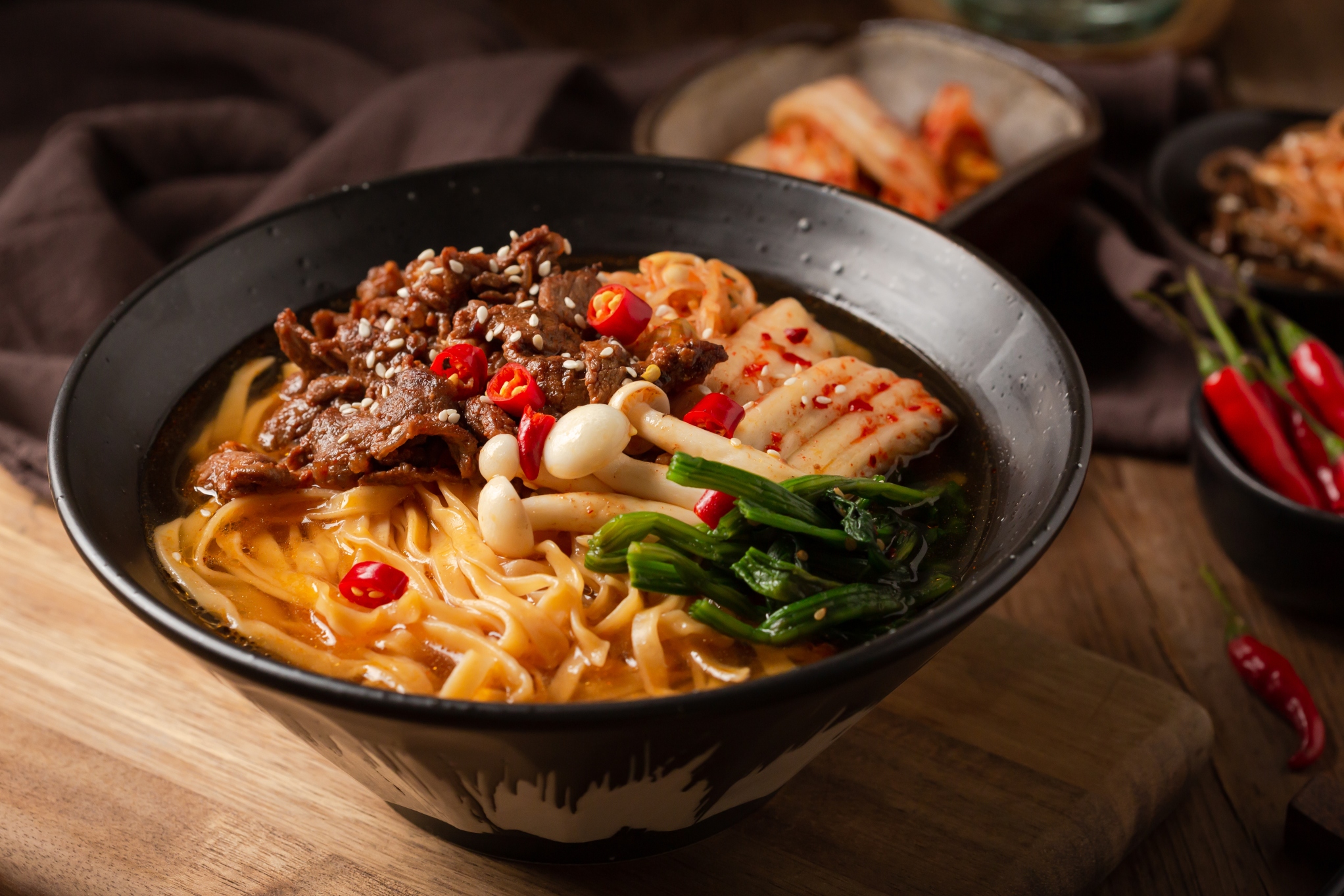 Bulgogi Wonton Noodles
---
COOKING METHOD

Soup
---
INGREDIENTS
1 12oz Twin Marquis Wonton Noodle (Thick)
½ lb sliced beef
4 oz Kimchi
4 oz Beech Mushroom (optional)
2 tbsp cooking oil
To Taste Salt
To Taste Black pepper
Spicy Marinade
4 tbsp Gochujang Korean red chili pepper paste
1 tbsp Gochugaru Korean red chili flakes
2 tbsp Honey
1 tbsp Soy sauce
1 tbsp Minced garlic
1 tbsp Mirin
½ tbsp Sugar
Pinch Salt
Pinch Black pepper

Garnish (optional)
Sesame seeds
Bird-eye Chili, sliced
2 tbsp Scallion, sliced
---
DIRECTIONS
Marinade
Mix all the listed ingredients for the marinade in a bowl.
Add sliced beef and coat the meat thoroughly

Cooking
In a pot of boiling water, cook the wonton noodles according to the package. Drain and set aside.
Heat the pan on medium heat. Add Kimchi and cook until it's slightly brown. Set aside.
On the same pan, heat oil and sautéed sliced beef and mushroom until 80% cooked.
Add beef broth and cook until boiled.
Season with salt and pepper.

Assemble
Place wonton noodles in a bowl.
Top with kimchi, bulgogi and mushroom.
Pour in soup and garnish with chili, scallion and sesame seed.
---
Need Custom Noodles? Private Labels? Ask us.