EPISODE 2: FAMILY - WILSON TANG

EPISODE 2: FAMILY - WILSON TANG
IN THIS EPISODE
WILSON TANG
Owner of Nom Wah Tea Parlor
A native New Yorker, Wilson left a career in finance to pursue a dream in hospitality. His uncle was planning on retirement and offered Wilson the chance to own the famed Nom Wah Tea Parlor. Serving all-day dim sum, the Chinatown mainstay saw new life in both its dining room and local surroundings.
Since 2011, Wilson has expanded his family's business into four more concepts across New York and Philadelphia, with another outpost in the works.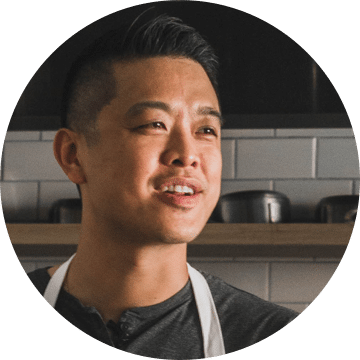 Maria Wen Adcock
Blogger BiculturalMama
Maria Wen Adcock is a freelance writer and creator of the award-winning BiculturalMama.com blog, a site celebrating bicultural families with a focus on Asian culture. She currently serves as Editor and Board Member for Multicultural Kid Blogs. NY Metro Parents Magazine has honored BiculturalMama.com as a "Best Parenting Blog" pick. Maria resides in Long Island, New York with her husband and two chef-in-the-making daughters.
MORE FROM YUM CHAT

What is Yum Chat
Yum Chat is a 5 part documentary series streaming exclusively on Twin Marquis' Facebook and YouTube channels. 5 New York City Asian American chefs come together over one dish. They trade kitchen secrets, tell their stories, teach each other, and eat good food. They'll share recipes like restaurant-worthy pan fried dumplings and homemade noodle dishes for the kids. Share the tables of Esther Choi of mŏkbar, Wilson Tang of Nom Wah, Bao Bao of Baoburg, Hooni Kim of Hanjan, and Lien Lin of Bricolage as they explore Asian cooking Yum Chat style.
Need Custom Noodles? Private Labels? Ask us.