EPISODE 5: TIME - LIEN LIN

EPISODE 5: TIME - LIEN LIN
IN THIS EPISODE
LIEN LIN
Chef/Owner of Bricolage
Chef Lien Lin was born in Hong Kong to ethnically Chinese parents raised in Vietnam. Lin arrived to the United States as a toddler and was raised on a farm in upstate New York where her family ran an upscale Chinese restaurant. Lin honed her culinary skills at The California Culinary Academy in San Francisco. After graduating, Lin worked at the Slanted Door Group for ten years, advancing from line cook to Executive Sous Chef. In 2013, Chef Lien Lin opened Bricolage, a modern Vietnamese gastro pub in Park Slope, Brooklyn. She is the Executive chef and co-owns the restaurant with her husband, Ed. Lin has also been working to collaborate with other local Asian chefs, and is a part of a network called "The Asian Food Mafia", working to grow awareness and debunk stereotypes on Asian food. Brooklyn vietnamese restaurant, The California Culinary Academy alumni, Brooklyn gastro pub, "The Asian Food Mafia"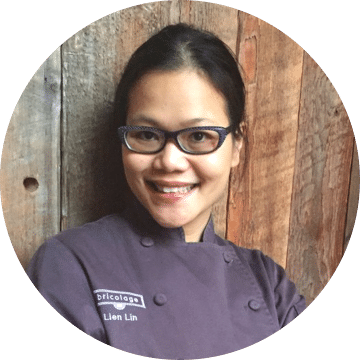 Cathy Erway
Food Writer
Cathy Erway is a food writer and podcast host based in Brooklyn. She's the author of the cookbook, "The Food of Taiwan," and the memoir, "The Art of Eating In: How I Learned to Stop Spending and Love the Stove." She hosts the weekly podcast "Eat Your Words on Heritage Radio Network" and was the host of the IACP Award-Winning and James Beard Award-nominated podcast, "Why We Eat What We Eat." She blogs at Noteatingoutinny.com. She has a passion for all food but especially loves unique and out-of-the-box creations like Chef Lien's dessert.
MORE FROM YUM CHAT

What is Yum Chat
Yum Chat is a 5 part documentary series streaming exclusively on Twin Marquis' Facebook and YouTube channels. 5 New York City Asian American chefs come together over one dish. They trade kitchen secrets, tell their stories, teach each other, and eat good food. They'll share recipes like restaurant-worthy pan fried dumplings and homemade noodle dishes for the kids. Share the tables of Esther Choi of mŏkbar, Wilson Tang of Nom Wah, Bao Bao of Baoburg, Hooni Kim of Hanjan, and Lien Lin of Bricolage as they explore Asian cooking Yum Chat style.
Need Custom Noodles? Private Labels? Ask us.