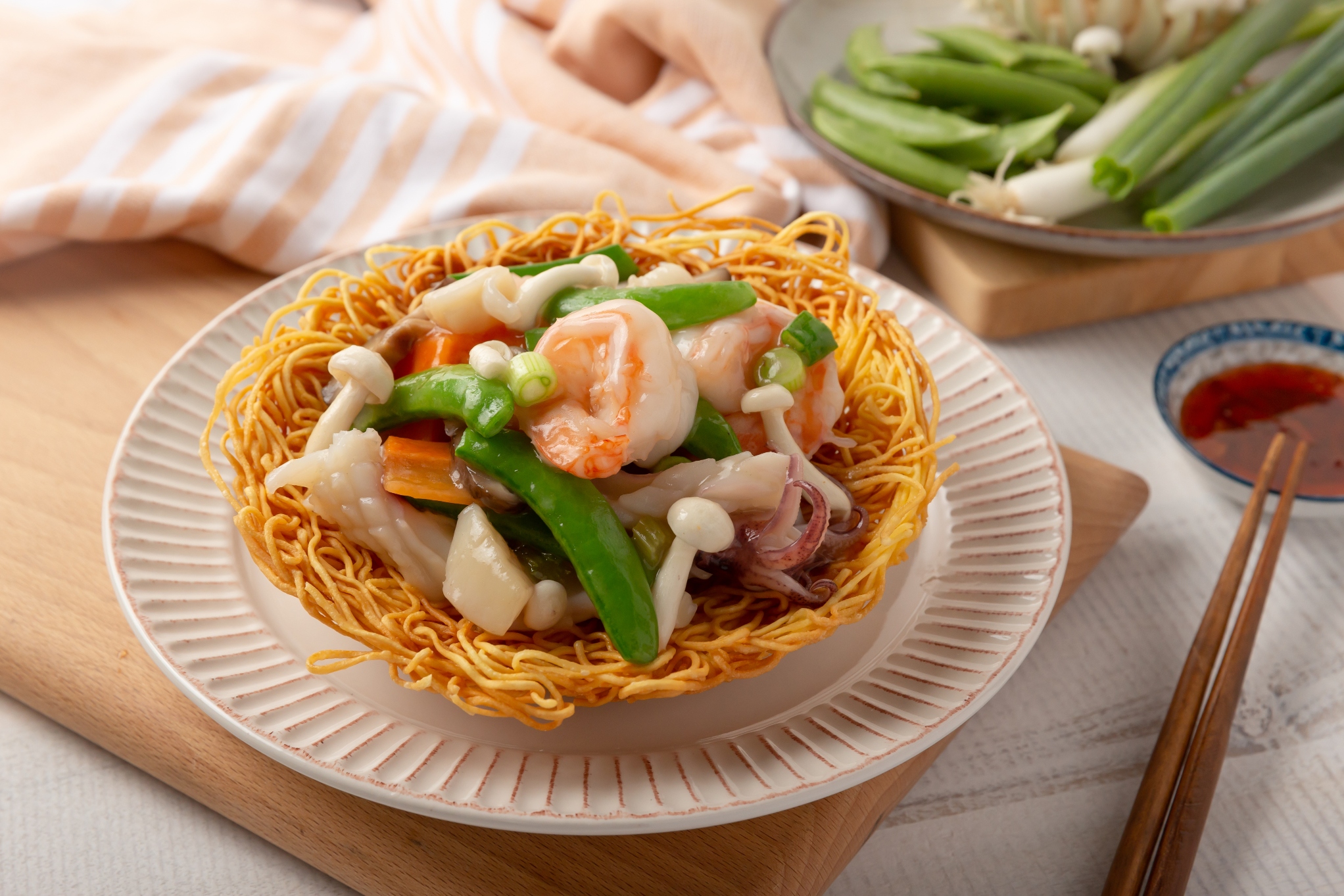 Pan Fried Noodles Cake with Seafood
---
COOKING METHOD

Stir Fry
---
INGREDIENTS
6 c water
1 pk Twin Marquis Hong Kong Style Pan Fried Noodle
Vegetable oil, for frying

For the topping
2 tsp vegetable oil
2 stalks green onions, cut into 2-inch segments
1 c carrots, Julienne
6 ea shiitake mushrooms, thick slice
1 c leafy green
8 ea snow peas, stemmed
½ lb pork, sliced
8ea Shrimp

For the Sauce
1 Tbsp soy sauce
1 Tbsp garlic, minced
⅔ c water/chicken stock
1 tsp cornstarch mixed with 2 teaspoons water
¼ tsp sesame oil
TT Salt
TT white pepper powder
---
DIRECTIONS
Boil water and cook the noodles for 1 min. Set aside
Heat the pan and put oil until it's shimmer. Cook the noodles until it's golden brown
Flip to the other side and cook until it's golden brown
Leave it in a bowl for setting the shape of the noodles cake. Set aside
Fully cook all toppings and set aside
Add water/chicken stock into the pan, add soy sauce, white pepper, oyster sauce
Season with white pepper, sesame oil and salt
Thicken the sauce with cornstarch
Add toppings to the sauce quickly
Pour toppings with sauce on the noodle and serve.
---
Need Custom Noodles? Private Labels? Ask us.