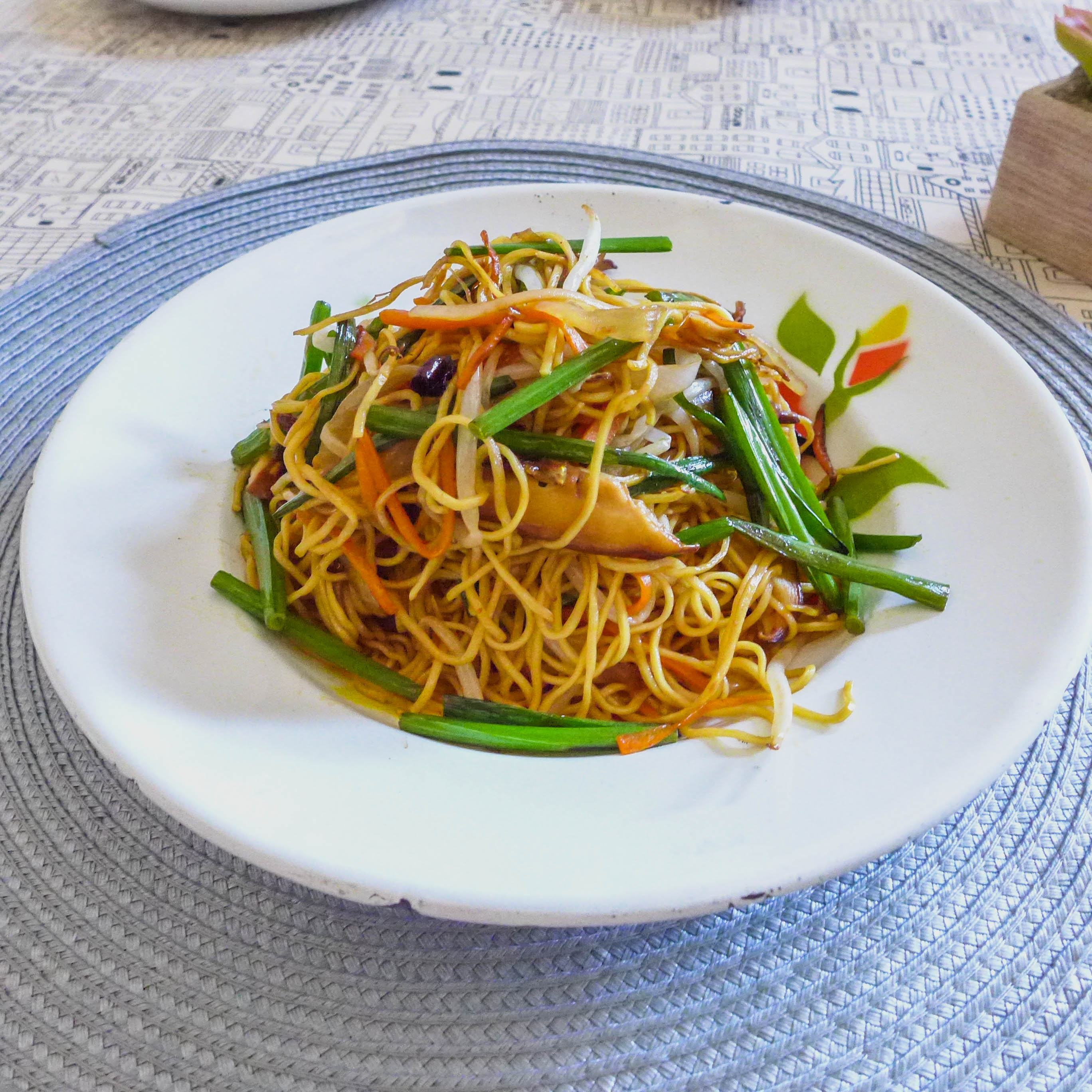 Vegetable Pan-Fried Noodles
---
COOKING METHOD

Stir Fry
---
INGREDIENTS
• 8oz Twin Marquis® Hong Kong Style Pan Fried Noodles (1/2 package) – if you want to make a whole package – easily double the rest of the recipe!
• 3 Tbsp Vegetable or Grape Seed Oil
• 1 Dried Thai Chili Pepper (optional)
• ½ Small Carrot, Julienned
• ½ Small Yellow Onion, Julienned
• 3 Medium Shitake Mushrooms, Julienned
• 10 Garlic Chive Stems and Buds, Cut 2" Batons
• Small Handful Mung Bean Sprouts
• Salt/Pepper
• 5 Tbsp Japanese Worcestershire sauce
---
DIRECTIONS
1. In large pot of boiling water cook noodles for 1 minute, rinse in cold water, drain and set aside.
2. In a large wok or pan on high heat add the oil and hand crushed thai chili pepper. Add carrot and stir fry for 30 seconds before adding onion and doing same. After 30 seconds add mushroom and stir fry 30 seconds before adding the garlic chive and mung bean sprouts.
3. Season with a pinch of salt and pepper and stir fry for 30 seconds.
4. Move the vegetables to one side of the wok/pan and add the noodles to the other side of the wok/pan. Gently place the vegetables on top of the noodles and move the noodles to the middle of the wok/pan so the noodles are cooking and vegetables are not. Watch Yum Chat Ep. 4 to see this in action!
5. Let the noodles get a little crispy (about 30 seconds) and then stir everything in the wok/pan until it is all mixed uniformly.
6. Add the Japanese worcestershire sauce to the side of the wok/pan to spread out evenly. Mix and stir fry for 30 seconds more.
7. Serve immediately in a bowl or plate. Garnish with garlic chips and seaweed powder if desired.
Fun Facts:
Julienne refers to cutting a vegetable into long thin strips
A mung bean is a small round green bean that is commonly grown as a source of bean sprouts
---
Need Custom Noodles? Private Labels? Ask us.