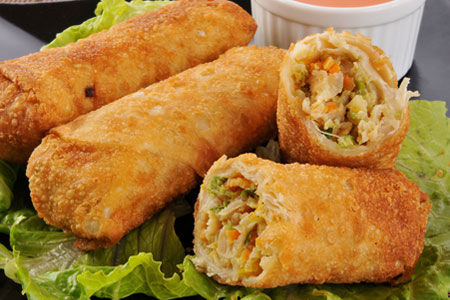 Corned Beef & Cabbage Egg Roll
---
COOKING METHOD

Air Fryer
---
INGREDIENTS
1 lb cooked corned beef
1 1/2 cups steamed or roasted cabbage
1 medium-sized carrot
5 green onions
2 oz Swiss or Monterrey jack cheese, diced
1 egg, beaten
oil for frying

Russian or thousand island dressing (optional)
---
DIRECTIONS
1. Finely chop corned beef, cabbage, carrot, green onions and cheese and mix together in a bowl.
2. Place a Twin Marquis® egg roll wrapper like a diamond, with a corner pointing towards you. Place 3-4 tablespoons of filling in the center.
3. Fold the corner over and tuck it around slightly. Fold up both side corners and roll over slightly.
4. Using a pastry brush, brush beaten egg onto the remaining corner and finish rolling the egg roll. Repeat until all the filling is used.
5. Place onto a baking sheet lined with parchment and coat with a thin layer of cooking spray. Repeat until all the filling and wrappers have been used.
6. Heat oil in a heavy pot or fryer to 375° F. When the oil is preheated, add in egg rolls slowly.
7. Fry for 2-3 minutes until they blister and turn dark golden brown.
8. Serve with Russian or thousand island dressing.
---
Need Custom Noodles? Private Labels? Ask us.