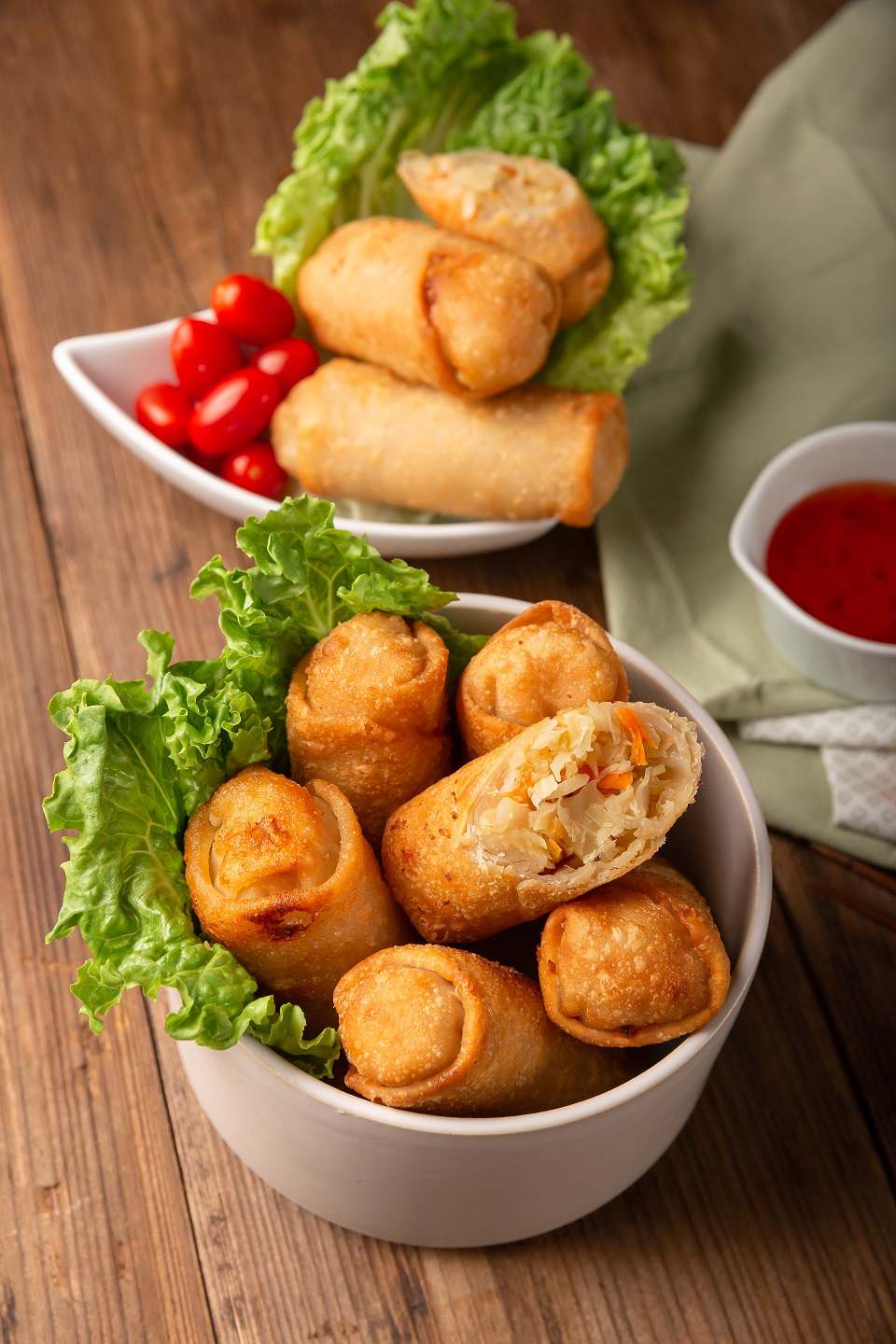 Vegetable Egg Roll
---
COOKING METHOD

Air Fryer

Stir Fry
---
INGREDIENTS
1 pack Twin Marquis Egg Roll Wrappers
2 teaspoons sesame oil
2 (16oz) bags coleslaw mix, shredded cabbage and carrots
1 tablespoon soy sauce
1 tablespoon seasoned rice vinegar, sub distilled white vinegar
1 teaspoon garlic powder
1 teaspoon ginger powder
1 green onion, chopped
1 cup water
2-3 cup vegetable oil, for frying so make sure there's about at least 1-2 inches of oil in the pan
---
DIRECTIONS
1) Heat up 2 teaspoons of sesame oil in a large skillet over medium heat.
2) Add the coleslaw mix, soy sauce, vinegar, garlic powder, ginger powder, and green onion to the hot skillet and saute for 5-8 minutes until the cabbage has softened stirring occasionally. (Don't over cook the cabbage because it will have a mushy texture after you fry it.)
3) Lay out the egg roll wrappers in batches and place 1/3 cup of the cabbage filling in the center.
4) Brush the edges with water, then roll them up like a burrito making sure all of the edges are sealed.
5) Set the egg rolls aside (don't stack them because they will stick together!).
6) Heat the vegetable oil in a cast iron skillet or heavy dutch oven over medium high heat until the oil reaches roughly 350 degrees. (I use a candy thermometer attached to the side of the skillet like this one.)
7) Carefully place 4-6 egg rolls at a time in the hot oil adjusting the heat of the oil so it stays at roughly 350 degrees.
8) Fry for 5-8 minutes flipping the egg rolls so they are crispy all over.
9) Place the crispy egg rolls on a wire rack to cool so they stay crispy.
---
Need Custom Noodles? Private Labels? Ask us.